Pfc. Eric H. Staples and Sgt. Donald E. Hudson posing in boat designed by Hudson
Grab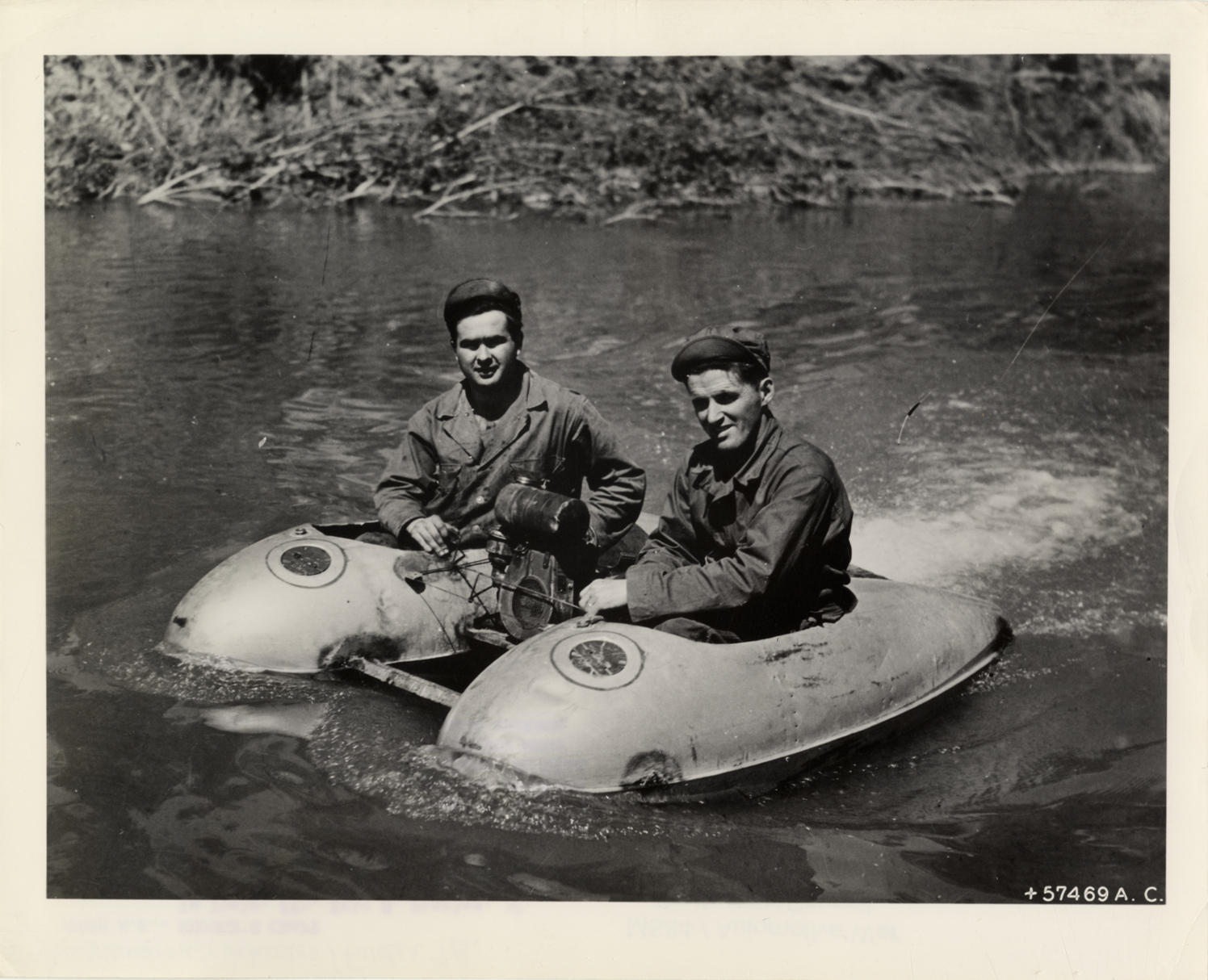 Description
View of Pfc. Eric H. Staples and Sgt. Donald E. Hudson posing in watercraft designed by Hudson. Typed on back: "37469 A.C., Hudson's craft. In Italy, Pfc. Eric H. Staples, 32, Sanford, Mo., of the U.S. Army 15th Air Force (right) is making a test run in the boat built by Sgt. Donald E. Hudson, 21, DeKalb, Ill., who is operating the controls. Hudson's craft is powered by an air compressor motor he scrounged in a salvage yard. The passenger compartments are two gasoline tanks from a P-38 Lighting fighter plane. Kicking up a white wake is a Hudson-built propeller made from scrap metal. Both men are ordnance workers in the 464th Liberator Bomb Group. Credit U.S. Army Air Forces photo, Wash., D.C. Released for publication, AC/AS, Intelligence Photographic Division. Credit: Official photo U.S. A.A.F." Handwritten on back: "Amphibious vehicles."
Details
Creator:

Resource ID:

na032429

Subject:

Date:

1942-1945

Format:

1 photographic print ; 8 x 10 in.

Department:

Location:

MS84/Automotive Council for War Production, Amphibious vehicles--Tanks, trucks, Ducks, tractors, cars, etc., 85:14

Copyright:

Physical rights are retained by DPL. Copyright is retained in accordance with U.S. copyright laws.