Paul Minner
Grab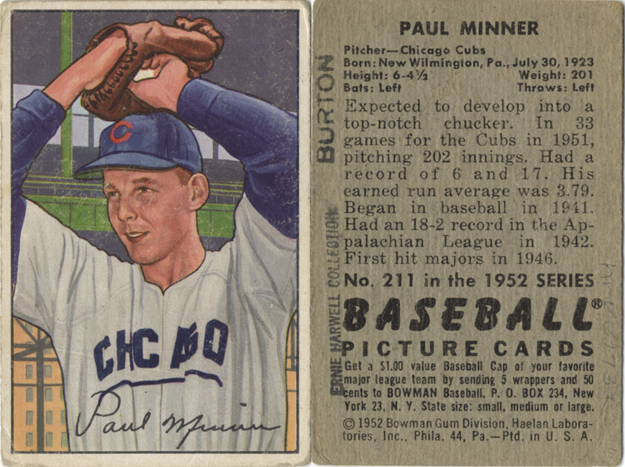 Description
Portrait of Paul Minner, pitcher for the Chicago Cubs. Bowman series. Printed on front: "Paul Minner." Printed on back: "Paul Minner. Pitcher, Chicago Cubs. Born: New Wilmington, Pa., July 30, 1923. Height: 6-4 1/2. Weight: 201. Bats: left. Throws: left. Expected to develop into a top-notch chucker. In 33 games for the Cubs in 1951, pitching 202 innings. Had a record of 6 and 17. His earned run average was 3.79. Began in baseball in 1941. Had an 18-2 record in the Appalachian League in 1942. First hit majors in 1946. No. 211 in the 1952 series Baseball picture cards. Get a $1.00 value baseball cap of your favorite major league team by sending 5 wrappers and 50 cents to Bowman baseball, P.O. Box 234, New York 23, N.Y. State size: small, medium or large. [Copyright] 1952 Bowman Gum Division, Haelan Laboratories, Inc., Phila. 44, Pa. Ptd. in U.S.A."
Details
Resource ID:

hr001732

Subject:

Publisher:

Date:

1952

Format:

1 baseball card : col. ; 3.25 x 2 in.

Department:

Location:

Baseball cards-Bowman-1952-Minner, Paul

Copyright:

Physical rights are retained by DPL. Copyright is retained in accordance with U.S. copyright laws.