Fred Payne throwing
Grab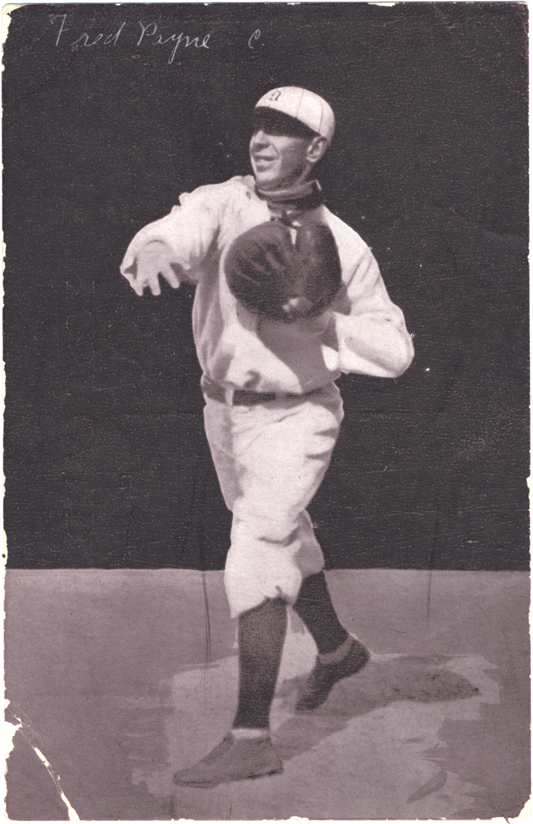 Description
Fred Payne posed throwing, with catching mitt held in front of chest. Handwritten on card front, in faded white ink: "Fred Payne, c." Printed on card back: "Fred. T. Payne, catcher of the Detroit Club, played his first professional ball in Syracuse, N.Y., in 1902. From there he went to the Rochester Club of the Eastern League, being drafted by Detroit in 1906. He has always been extremely valuable as a most opportune hitter. Copyrighted and published by A.C. Dietsche, Detroit, Mich., 1907." Handwritten on card back: "Thurs. Nov. 13 '08. It has been snowing off and on here all afternoon, and is quite cold. Had my geometry exam this a.m. and will have physics tomorrow a.m. Going to leave for Ann Arbor at 5.05 tomorrow night. It is about a 1 hrs. ride. Received mother's letter this a.m., also one from W. Sterling. Everything OK. E.A.S." Card is postmarked November 12, 1908.
Details
Resource ID:

hr000114

Subject:

Publisher:

Date:

1907

Format:

1 postcard ; 5.5 x 3.5 in.

Department:

Location:

Postcards-Biography-Payne, Fred

Copyright:

Physical rights are retained by DPL. Copyright is retained in accordance with U.S. copyright laws.