Storefronts
Grab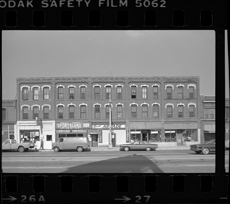 Description
View of row of storefronts in brick commercial building with residences on second floor. Automobile, truck and van parked in street. Signs for Sportsland, pinball arcade and grocery store displayed on building.
Details
Creator:

Resource ID:

bh008592

Subject:

Date:

unknown

Format:

1 negative : 35 mm. ; 1.5 x 1.5 in.

Department:

Collection:

Negative Number:

RPT 4P_012

Restrictions:

Use of images from the Bill and Doris Rauhauser Photography Archive is limited to a lifetime total of three images per user. None may be used as a publication cover. Additional usage is possible with prior written approval from the Trustee of the Rauhauser Photographic Trust.

Copyright:

Physical rights are retained by DPL. Copyright is retained in accordance with U.S. copyright laws.