Detroit Auto Show model
Grab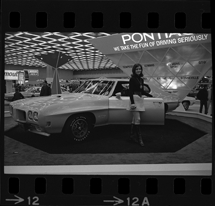 Description
View of a woman, wearing short skirt and boots, standing next to a Pontiac GTO car on a circular platform at the Detroit Auto Show. "Pontiac, we take the fun of driving seriously" sign displayed in background.
Details
Creator:

Resource ID:

bh007626

Subject:

Date:

1970-1979

Format:

1 negative : 35 mm. ; 1.5 x 1.5 in.

Department:

Collection:

Negative Number:

RPT 7_075

Restrictions:

Use of images from the Bill and Doris Rauhauser Photography Archive is limited to a lifetime total of three images per user. None may be used as a publication cover. Additional usage is possible with prior written approval from the Trustee of the Rauhauser Photographic Trust.

Copyright:

Physical rights are retained by DPL. Copyright is retained in accordance with U.S. copyright laws.